Today, we're turning the blog over to Brix. She's a student from Australia, but also a 2 time volunteer and all-around lover of Uganda. This post is full of insider information and enthusiasm for responsible travel.
If Uganda isn't currently on your bucket list, according to Brix, you should add it now! She's been here twice, spending a total of 2 months in Uganda. She started both trips as part of a group, and ended as a solo traveller. She met amazing people, did plenty of tourist activities, ran a marathon, and volunteered with a community-based organization.
The Real Uganda offers 2 – 12 week locally-led communty-based volunteer programs.
Speaking purely from experience, here is Brix's list of things to do while travelling in Uganda:
1. Try Zip-lining in Mabira Rain Forest
"I'm not a huge fan of heights, so this had me a little nervous. In saying that, the second I reached the top of that first tree, I no longer cared. The view above the canopy was incredible.
There are 5 zip-lines that carry you 250 metres through the forest. A sixth line brings you back to solid ground. Do you remember the scene in Tarzan (the cartoon not the remake) when he takes Jane to the top of the trees and birds suddenly scatter and she is amazed? It's like that, but better.
Run by Mabira Forest Integrated Community Organisation (MAFICO), all proceeds from the zip line go straight back into local community efforts to preserve Mabira rain forest. The zip-lines meet all international standards, with equipment coming from the US. You will truly witness the natural beauty of Uganda."
HOW TO DO IT: Griffin Falls, Mabira Forest, Uganda. Head to Lugazi and get a boda boda outside Simple Supermarket, on Jinja Road. Tell him to take you to Wasswa Village, on the other side of the railway tracks. As of 2019, the price is $50 for tourists and UGX60,000 for Ugandans.
2. Go White Water Rafting on the River Nile
"This is pretty much the most fun I've ever had! The day starts early, near Jinja Town, with a short drive to the starting point. You receive instructions on how to negotiate the Nile, and go for a practice run. You paddle, flip, and get back into the raft. Then it's full-on rafting until 3pm. It's a full day activity with up to grade 5 rapids.
Our raft flipped once, which was amazing, other than the nose full of water I received. You will leave sunburnt as there's not much chance to reapply sunscreen in the middle of the Nile. Bring your aloe vera. It is exhausting, but there are no words to describe how much fun I had white water rafting the Nile."
HOW TO DO IT: Go with Adrift or Nile River Explorers. They have a number of pickup points in Kampala and Jinja. Both have half and full day packages. Full day packages include transportation and lunch and cost $140 for tourists and $80 for Ugandans.
RELATED: Tips on purchasing travel insurance for Africa travel
3. Visit the Source of the River Nile
"I went to the source of the Nile twice.  The first time was with a group of 20, and we did a boat ride. The second time we simply stopped by to admire and do some shopping.  The boat ride is amazing but a little pricey. Bargain hard. If you're on a tight budget, just take in the sights from the shore. Did you know some of Mahatma Ghandi's ashes were sprinkled there? Check out the shrine.
The boat ride takes you along the river's edge to view monitor lizards, king-fishers, and eagles, while the guide gives you the history of the Source. You stop at a little island for souvenirs and to take photos right where the Source violently bubbles to the surface of Lake Victoria.  Very cool."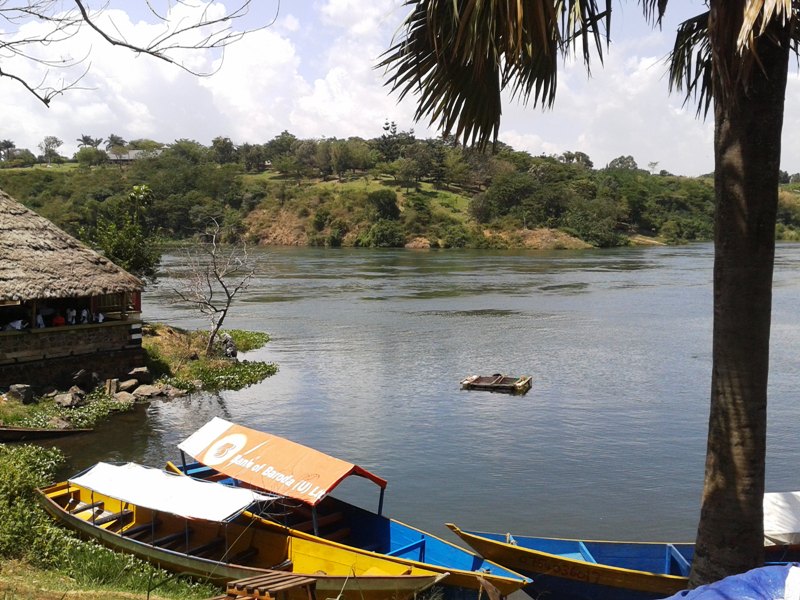 The Real Uganda leads 7 day Culture-Adventure Tours.
"Let me start by saying that I am not a runner. I'm not even athletic. However, I used this marathon as my excuse to return to Uganda. Everyone thought I was crazy. My own mother thought I would get dehydrated and not walk for a week. The Uganda Marathon is said to be 'a race like no other' for a reason.
The marathon route is astounding. You see all of Masaka Town, and feel the support from the community as they stand on the side lines to watch. It's truly one of the most beautiful things I have ever been apart of. All funds from the marathon go towards community development programs. It is a very worthy cause.
The Uganda Marathon has been named one of the top 9 marathons in the world by Red Bull UK, and is held every June. Fellow Aussies, this is a good chance to escape the winter! Running this marathon was by far the most physically challenging thing I have ever done. Running up and down sprawling hills, on dirt roads, in 28C heat, isn't easy. I even carried a little girl for a distance!"
HOW TO DO IT: The Uganda Marathon is held on the first Saturday in June in Masaka Town. Fees are upwards of $1,000, but include a week's worth of food, accommodation and tourist activities. It's been going since 2015 – registration for next year is already open.
5. Wildlife Safari & waterfall Hike
"My words and photos will never do this place justice. It is something you have to experience firsthand. A baboon sat on the hood of our car before jumping on to another. We saw a herd of elephants just hanging out. I had no idea Uganda had over 500 species of birds!
You have to get up before sunrise in order not to miss a thing. Heading to the safari park entrance to pick up a guide, we saw a hippo on its way to the water.
Once inside the park, there was so much more to see: a hot air balloon floating over, giraffes hiding in the trees, hyenas eating breakfast, elephants playing together, lions hunting or simply posing on rocks. We saw hundreds of birds, tonnes of monkeys, water buffalos, hippos, wart hogs, kobs leaping like kangaroos, and crocodiles waiting for their morning meal. The Democratic Republic of Congo, could be seen off in the distance.
There's also a boat ride, which took us up the Nile to Murchison Falls. We hiked the falls, which was a little overwhelming immediately following a marathon. But it was wonderful. There were hippo tracks up the side of the trail, crocodiles relaxing on the rocks, and of course the magnificent falls. Our guide gave us the history and pointed out details we surely would have missed. The whole day was like stepping into an Instagram profile: perfection.
Murchison Falls is located in Northern Uganda, so plan to spend at least 3 days on this activity. Totally worth it."
HOW TO DO IT:  This safari can be arranged for as little as $320 or as much as $1,500 – per person. Be clear with your tour provider of your budget and how many days you wish to spend in the park. Drive time between Kampala and Murchison Falls is about 7 hours.
6. Volunteer with a locally-Led Development Organization
"I'm saving the best for last.
While I do volunteer in Australia, nothing compares to volunteering in Uganda. I have always dreamed of travelling and volunteering around the world, but became hesitant after learning about the potential pitfalls of volunteering abroad. I didn't know anyone who had volunteered in Africa, when I came across The Real Uganda. This was to be my first solo trip. In the end, excitement over-powered nerves, and I got on that plane.
I have never felt more at peace than I did while volunteering in Uganda. Of course there were days when I missed home and wanted a hot shower. But there still isn't a minute that passes when I don't miss my new family or the work I did there. There are many organisations and people who do international volunteering wrong. The Real Uganda is not one of them.
As a volunteer, I helped to renovate spring wells, taught in schools, worked in gardens, built a rabbit hutch, made shoes, worked in a medical centre, and learnt to sew. All these brought me happiness as I could immediately see my impact.
In the medical centre, they need staff to assist the medical professionals. My extra hands made sure more people were served. In school, the students concentrate so hard, it was great to be able to give them a laugh and teach them something outside of curriculum. Working alongside women as they make handicrafts, sew, or garden is incredibly insightful. I loved every single moment of my time volunteering."
HOW TO DO IT: Volunteering with The Real Uganda starts with completing an Application to Volunteer. Once accepted, we help get you prepared, collect you from the airport and deliver you to your new home, and offer personal guidance and advice while you volunteer – all to ensure your success.
2 week placements start at $735 and include all in-country transportation, food, accommodation, and a donation to your host organization.
Don't have that much vacation time? Check out our 7 day culture-adventure tour of Uganda.
"Nothing in life is easy, and Uganda presents some hard days and hard lessons, but travelling Uganda was easily the best thing I have ever done. There's a wide variety of activities to do, cultures to learn, and landscapes to enjoy. Interacting with Ugandans and other travellers and volunteers absolutely makes the trip.
I highly recommend contacting The Real Uganda for information about all the above. They really want their volunteers to see all of Uganda – properly."
There you have it folks – in the words of someone who actually survived and even returned to enjoy all that Uganda has to offer. What's stopping you from booking that ticket?