If you'd like to support The Real Uganda's work, but don't wish to volunteer in Uganda, you can choose to:
1. Support our primary school hot lunch program with a cash donation; or
2. Use our affiliate links when purchasing certain goods and services online.
This page provides details and outlines the different projects we've been able to fund over the years – through the generosity of our former volunteers. 
Thanks everyone!
The Real Uganda offers 2 – 12 week locally-led communty-based volunteer programs.
1. nalusse success primary school hot lunch program
Since February 2008, The Real Uganda has provided a hot lunch for 120 students and 9 teachers at Nalusse Success Primary School in Mukono Town.
Getting a hot lunch is very important to these kids as they often come to school without breakfast. The school day lasts from 8am to 4pm.
Before the hot lunch program became free many kids ate only a small dry bun for lunch. They are now served rice or a cornmeal-like cake (posho) with beans. Sometimes, there's even a little cabbage.
As a result, students are energetic and able to learn better. This program is contributing to their personal development and to the development of Uganda in the long run.
The annual budget is about $3,900. This includes all food, cooking oil, salt, charcoal, and a stipend for the cook.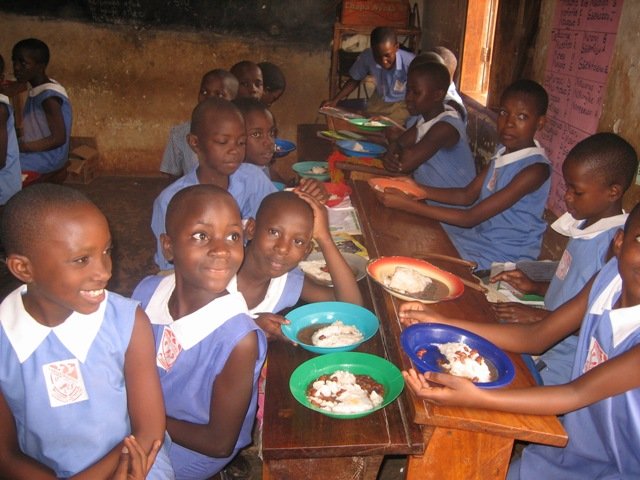 2. shop online and support our scholarship program
Grace Daycare and Primary School, near Nakifuma, Mukono District, spends considerable time and resources educating rural children. Sadly, once these kids graduate, their families rarely have funds to send them to secondary school.
This perpetuates the cycle of poverty.
In 2014, The Real Uganda started a scholarship fund for graduates of Grace Primary School. To qualify, students must score a first grade on their Primary Leaving Exam. To continue receiving their scholarship, students must maintain passing grades in all secondary school classes.
Our scholars' families contribute shoes and school bag, and remain involved in their child's education.
Currently, The Real Uganda is an affiliate of Amazon.com, World Nomads, and TravelNuts.co. Basically, by shopping online for products you already want, using any of our links, you help The Real Uganda send kids to school.
Read more about this program and access those affiliate links
It's costs approximately $350 to offer a one year high school scholarship to a graduate of Grace Primary School. Please contact us if you'd like to fund a scholarship directly.
the real uganda's past achievements
Because of the generosity of our former volunteers and other amazing supporters, we've been able to do a tonne of good works over the years.
Since 2006, The Real Uganda has:
Bought a motorcycle for Uganda Skateboard Union in 2006
Sponsored 1 man through a university degree, sponsored 15 students through "O" level education
Purchased over 30 mattresses and blankets for Jim Education Centre in 2006
Continued to support a handicraft program to benefit five local women's groups, which has jewelry, handbags, and other handicrafts for sale, since 2007.
Built a goat farm for Johnson Nkosi Primary School in 2010
Built a piggery for Passionate Child and Elderly Care in 2010
Given away 8 pregnant cows to YOFAFO's women's group from 2011 to 2012
Given 9 pigs for 3 community groups in conjunction with Volunteer Support Network in 2012
Built a clinic at Hope for Africa Children's Village in 2012
Built a kitchen for Hope for Africa Children's Village in 2013
Purchased 2 plots of land (50'x100′) for Christian Heritage Centre in 2013
Sent a community leader on an organic agriculture course in 2014
Given seed funds to start a micro-loan program with Hopeline Organization's women's groups in 2014
Held a re-useable menstrual pad workshop for Hopeline Organization's women's groups in 2014
Replaced damaged roofing and all Nursery to P7 textbooks at Nalusse Success Primary after a major storm destroyed buildings and property in 2014
Built numerous classrooms, latrines, and staff houses for community based organizations and schools between 2006 and 2015
Bought a car for Hopeline Organization in 2015
Purchased land for Volunteer Support Network in 2015
Purchased land for Christian Heritage Centre teacher housing in 2016
Helped fund handicraft income generation programs at Lugacraft, Hopeline Organization, and Grace Daycare in 2016
Bought 2 sewing machines for Hopeline Organization's women's empowerment groups in 2016
Renovated teacher housing for Hopeland Junior School, Kitoola in 2016
Rebuilt a crumbling classroom block for Nalusse Primary School in 2017
Bought playground equipment for Christian Heritage Centre, Najjembe in 2017