The Real Uganda offers 2 – 12 week locally-led communty-based volunteer programs.
1. All Kids need a hot lunch
Since February 2008, The Real Uganda has provided a hot lunch for 120 students and 9 teachers at Nalusse Success Primary School in Mukono Town.
Getting a hot lunch is very important to these kids as they often come to school without breakfast. The school day lasts from 8am to 4pm.
Before the hot lunch program became free many kids ate only a small dry bun for lunch. They are now served rice or a cornmeal-like cake (posho) with beans. Sometimes, there's even a little cabbage.
As a result, students are energetic and able to learn better. This program is contributing to their personal development and to the development of Uganda in the long run.
Read more about and donate to this program
The annual budget is about $3,900. This includes all food, cooking oil, salt, charcoal, and a stipend for the cook.

2. Prioritizing Hygiene at school
The Real Uganda wishes to support two of its partner schools to construct new pit latrines.
The latrine and bathing station serving the new staff and student home at Grace Daycare and Primary School is badly degraded and needs major help.
We wish to have it sanitized and emptied. We also wish to renovate the crumbling concrete walls, install new doors, and raise up the walls for the girls bathing area.
Hamilton Buikwe Kids Care Center, in Buikwe Trading Centre, Uganda is finalizing the purchase of a small piece of land adjacent to the school. While it's wonderful this humble school will finally have room to grow, it badly needs a new pit latrine.
The current one is very small for the number of students it serves. It also cannot accommodate the separation of male and female students. A major priority for The Real Uganda will be to fund the construction of a new 4 stall pit latrine for this school.
Read more about and donate to these programs
The budgets for these projects are less than $3000.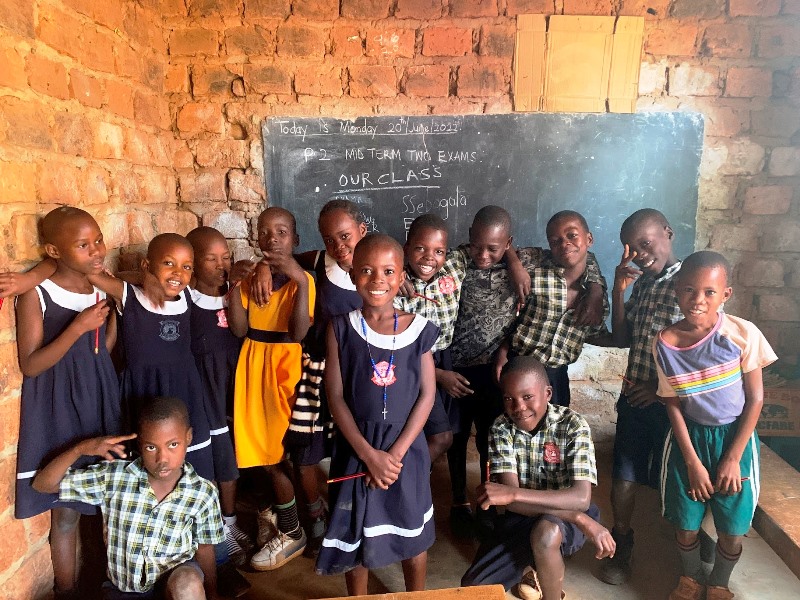 3. Kids go to school while you shop online
Grace Daycare and Primary School, near Nakifuma, Mukono District, spends considerable time and resources educating rural children. Sadly, once these kids graduate, their families rarely have funds to send them to secondary school.
This perpetuates the cycle of poverty.
In 2014, The Real Uganda started a scholarship fund for graduates of Grace Primary School. To qualify, students must score a first grade on their Primary Leaving Exam. To continue receiving their scholarship, students must maintain passing grades in all secondary school classes.
Our scholars' families contribute shoes and school bag, and remain involved in their child's education.
We further secure 2 year apprenticeships in welding, carpentry, or tailoring for our young graduates.
The Real Uganda is an affiliate marketer for Amazon.com, World Nomads (travel insurance), and uTalk (a language learning app). When you shop online for products you already want, using any of our links, The Real Uganda earns a small commission at no extra cost to you.
We're excited to offer fun, quality merch that celebrates Uganda and helps our supporters start conversations about the reality of life in Uganda. Our online store, hosted by bonfire.com, prints our uniquely Ugandan t-shirts and tote bags and ships them directly to you.
It's costs approximately $350 to offer a one year high school scholarship to a graduate of Grace Primary School. Please contact us if you'd like to fund a scholarship directly.