girls need skills - uRGENT covid-19 response
While Uganda has largely avoided sickness from COVID-19, it has not fared well socially and economically due to harsh lockdown restrictions. While COVID is mainly found in the city, the entire country is encumbered with a myriad of restrictions to help slow the viral spread.
Schools, churches, and community gatherings of over 20 people have been stopped since March 2020. This breaks down community and family solidarity that otherwise protects young women. Rolling closures of shops, open air markets, and public transportation greatly impact the ability of average Ugandans to earn a living.
Family providers are idle, staying closer to home, feeling powerless, and often turning to drink.
The Real Uganda offers 2 – 12 week locally-led communty-based volunteer programs.
As a result, domestic violence and teen pregnancy are trapping young women in a new pandemic. The cycle of dependence and poverty is renewed and deepened.
The Real Uganda has been working with Lugacraft Kiteza Rural Women's Group since 2012. Among other activities, it has helped them lease land for communal gardening and secure innovative handicraft lessons.
Their colorful baskets are made from banana fiber and recycled rice and sugar sacks. They're marketable in local and tourist craft markets.
Pre-COVID-19, the women had a thriving events management company that supplied tents, chairs and catering services for weddings and graduations in their community.
Since local area household incomes and foreign tourism are down, and social gatherings over 20 people are still banned, their earning capacity has greatly reduced.
Currently the women earn a subsistence income through communal gardening (mostly spinach type greens) and handicraft making (jewelry, baskets, and handbags).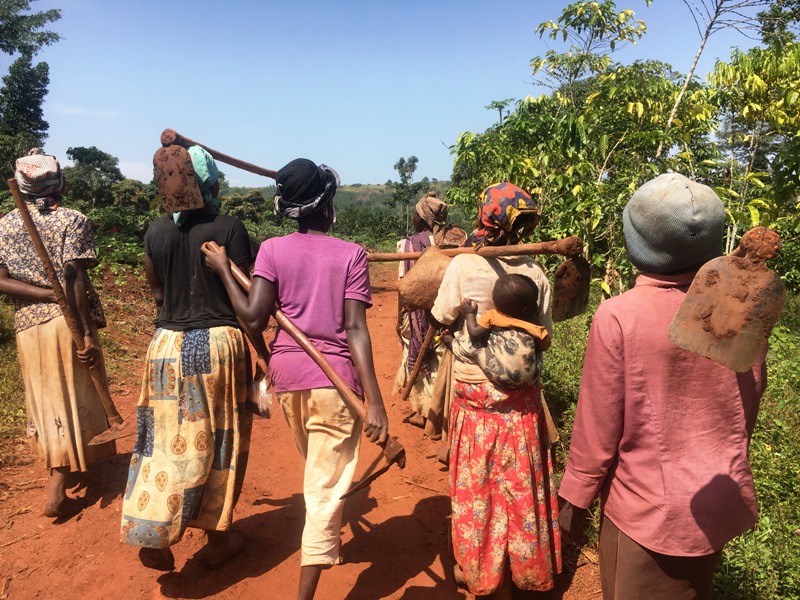 They admit their pre-teen and teenaged daughters will likely not return to formal classroom education after being away from school for almost 2 years.
The women would like to skill up their daughters and help everyone earn better money in their gardens.
Here's how:
Hair salon skills: No matter how little money a woman has, she can always save some for her hair. Hair stylists market themselves door to door, without the need for a salon or formal job. (Our outdoor beauty school launched on September 13, 2021 – Find out how it's going!)
Cake and cookie baking instruction: Cakes and cookies are popular and affordable local snacks. They can be sold to shops wholesale or pedaled in the street for direct sale. Once lockdown restrictions are relaxed and parties can resume, the girls will be ready with their yummy cakes!
Modern farming techniques: Currently, seeds are broadcast rather than properly spaced and allowed to mature naturally with no help. Yields can be increased with a little tweaking. Proper seeds, efficient gardening techniques, and natural fertilizer use will help these young women build their family's income.
The ultimate goals for this program are to avoid early marriage and teen pregnancy, and increase the confidence and decision-making skills in the young women we're working with. We wish to see a sustained weekly income earned from these new skills, as well.
We can't wait to see what the future brings.
GoAbroad Foundation, an American registered charity, collects donations on our behalf through PayPal. This not only gives our American donors a tax receipt, but offers another layer of accountability to all our programs.
You can contribute now by clicking on this link:
Your individual donation will help these girls avoid a life of subsistence farming, early marriage, and too many babies.
If funds are tight right now, we understand. Will you instead share this with your network? People are always looking for legit ways to help the world become a better place.
Let's help them skill up some really great young women!