former volunteers dish on their time in uganda
Since January, 2005. we've hosted almost 1,000 volunteers from all over the world. Here's what they did and what they had to say about it.
Michelle Yurick, February/March 2019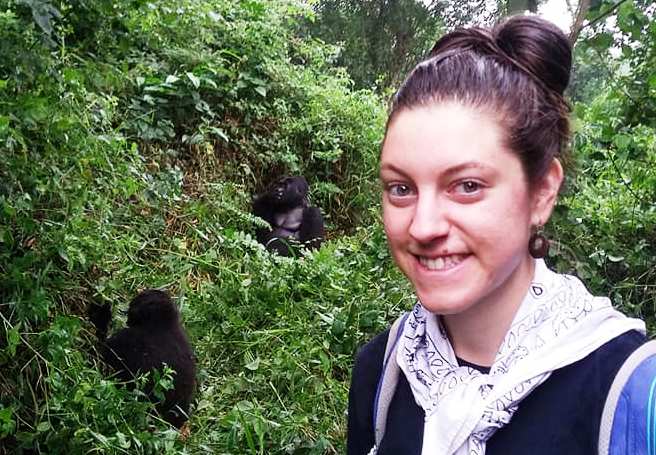 "I wanted to challenge myself to go abroad alone, and immerse myself in a completely different culture, while making a positive impact. I did not want a "vacation", I wanted an experience where I would work, focusing on people who are largely underserved.
I feel that I did achieve what I set out to do…and gained a LOT of new knowledge as well! I am happy I was able to "get my hands dirty" (oftentimes quite literally) while in Uganda. Being able to speak with actual people, make real connections, and physically work on different projects was so meaningful.
Having a small backpack is great, but a fanny pack or a more wallet-sized bag that can be hands free would be super useful! You'll take it everywhere! And keep collecting those small bills! ATMs love to give you 20s and 50s, but you want 5s, 2s, and 1s."
Candace Moulton, November 2018
"Volunteering allowed me to teach and be amongst the children at the school, sing songs, play games and enjoy time with each other. They love even the most simple gifts you can give…whether it be teaching them a new song, skill or putting stickers on their work.  The medical clinics involved children to a degree; it was nice to show them a little love on days they have to spend waiting to see a doctor for HIV medicine.
Volunteering in Uganda is a chance of a lifetime that provides so much more than feeling good about helping others.  Volunteering with The Real Uganda allows you to be part of a community and experience life that appreciates everything.  The smiles never stop in Uganda. The tears you might have will be of joy and the thoughts of missing your new friends when you leave.
I regret not staying longer to have time to explore other parts of Uganda. I went rafting and on a safari but there is so much more."
Doreen O'Mahoney, July-September 2018
"My first three weeks were spent living in a community near Mukono. The work there was varied as I spent time in a school, maternity ward, and hiv clinic. I also worked in the community building ovens from clay. The last three weeks were spent working on a communications plan to market the organisation at a local level.
Definitely bring a journal to record some of the things that happen to you and a camera. Bring an open mind and be patient. Soak up the fact that life is different there than what you know and that's a good thing. Resilience is a must, you'll need to adapt to living without many of the comforts that you're used to such as showers/toilets as we know them.
I learned a lot from the people I worked with about life in Uganda, which was very different to my life in Ireland. I got to expand my mind in a different way and to appreciate and respect a very different world to my own."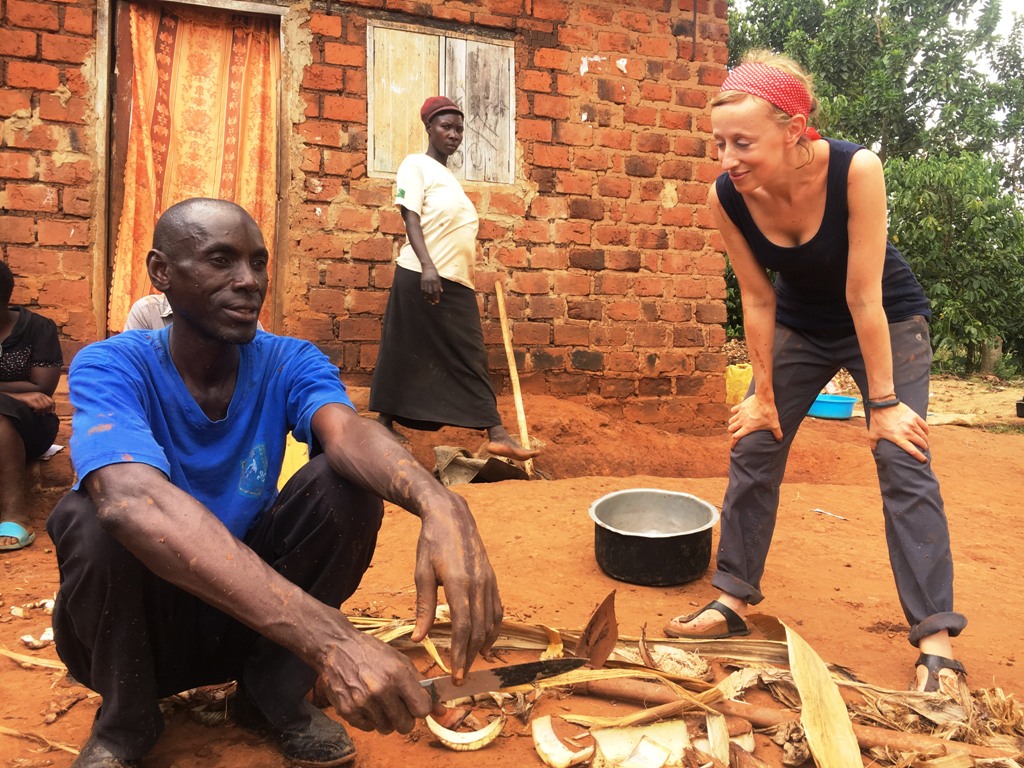 Tamas Pal, July-September 2018
"In daily routine in the mornings I helped Robert around the village. We planted banana trees and vegetables both in the fields and in the village. I helped building a fence around a vegetable garden.
In the afternoons I spent my time at school. I played games with the kids and we learned in the classrooms. After that the endless playing of ball games until dark.
If you are thinking of doing some volunteer work, don't hesitate. The six weeks that I spent in Uganda gave me the most powerful and beautiful emotional experience. Travelling to Africa is fun.
But washing my own clothes in a basin was hard!" 
Catarina Moreira, May-August 2017
"I realized something important: you do not change the world (as a savior!) in 3 months. Ugandans don't actually need you, but they want you there. They want to be with you as much as you want to be with them.
I helped in the daily affairs at school: washing dishes and clothes, helping the kids with their homework at night, fetching water for showers and cooking. I helped local community members fill out forms for their children to get a national ID.
Even if you feel afraid because it is Africa and everyone is telling you not to go, go anyway. Uganda is a peaceful and calm country.
Not every day is a "happy" day: you will feel homesick, you will feel that you don't belong in the first few days, you will get tired of the constant bargaining. Please: accept it as a normal thing and I guarantee that after the first week you won't want to leave!"
Natasha Kurowski, April 2015
"What really enticed me to join this program was the opportunity to dip my feet into a variety of areas – I really liked the program description of it being a community-based organisation by which you could really immerse yourself in real Ugandan life and work with members of the local community – whether it be through working in a small school, working with women's groups or lending a hand in a health clinic. All these sounded like awesome opportunities to me and I was ready for the challenge!
Try EVERYTHING! Whether it be the strange food or the opportunity to take an adventure somewhere off the beaten track, GO FOR IT! Some of the best experiences I had in my two weeks were crazy taxi rides or trying some ridiculously random food that you expected to be totally inedible but was actually delicious!"
The Real Uganda offers 2 – 12 week locally-led volunteer programs.
Sam Holmes, February/March, 2015
"I taught P5-P7 in the village of Kitoola. It was an amazing experience. I was teaching lessons on English, Art, Science and Sport. The first week was tough getting used to no modern conveniences and finding out how much the kids understood me. I have many vivid memories of running Netball and Soccer games after lunch on a pitch that was uneven with goats and cows as spectators, luckily I only slipped once on a cow pat. The kids were very welcoming and enjoyed the novelty of a foreign teacher (Muzungu).
Be open and ready to learn a new culture. Be prepared for culture shock in the first week and treat it as part of the adventure. Be open to praise from others and people having an open and strong religious faith. Take clothes that are breathable but cover your legs, good for local customs and protection against mozzies. Many students are excellent singers and dancers so bring some new ones. Open shoes are comfortable but not too loose as the footpaths are often far from smooth."
Tiffany Leggett, December 2014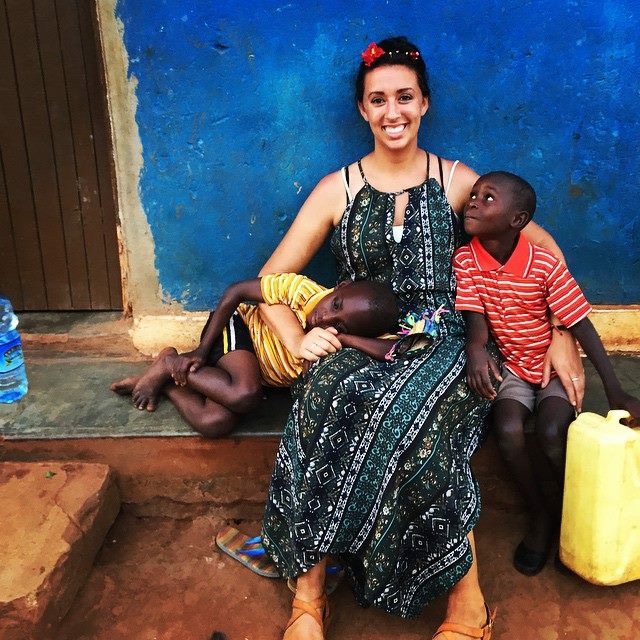 "I had daily involvement with approximately 10 children (at the boarding school). The school schedule was very flexible. The children tended to their daily chores and I assisted in any way I could, although I was proven very inadequate in many areas (peeling potatoes with dull knives, hoeing the gardens, carrying bundles on my head!).
The younger children played most of the day. I was able to bring with me some supplies and toys (coloring books, games, beads, whistles) which they loved.
Take interest in learning the language and practice it as much as you can! It really goes a long way. The kids love hearing native Luganda coming out of a muzungu's mouth. Embrace the culture! Love the food! Be appreciative! Love on the children, give hugs and plenty of words of affirmation.
Bring good walking sandals, nothing rubber or plastic and preferably something that has a back to it. Take lots of pictures! JOURNAL! If I hadn't I would have forgotten so many little moments and things that happened during my stay."
We are ready to match your skill and interest with a locally-led organization seeking help.
kristen usher, september 2014
"I was placed at a local primary school and day care. While there, I taught some English lessons for the Primary 7 upcoming exam, read aloud picture books, taught some world studies on continents and various cultures, shared songs/dances/active games, played soccer, helped in the garden and shared love with every one there!
Most of the activities organically came about, I prepared less and just brought materials/books I knew I would use. We made paper airplanes, origami, used stickers, colored, played tic tac toe and used alphabet matching cards.
Spend as much time as possible sitting with, talking to or doing chores with the kids. Even if they don't speak to you at first, it is how I got to know them so well. Learn each child's name. Ask to help with the cooking or in the garden, it is a great learning experience and the kids seem to love seeing volunteers help out like that!"
Katerina Ost, January-March 2014
"I taught courses on HIV/AIDs, domestic violence, hygiene, parasites, nutrition, family planning, breastfeeding, and answered general health questions. This helped me solidify all the information I learned in University and gave me more confidence in my ability to answer questions on my feet and give accurate medical information. I had to learn to read the audience without the benefit of having a language in common.
I went in with an open mind ready to experience Ugandan way of life. I wasn't sure what to expect, and that was almost better. I think if you have too much information you start to over think everything. I just went in with a "roll with it" attitude and I had a blast because of it. You get a lot further in Ugandan culture with a flexible, ready for anything attitude, and Ugandans are much more willing to throw more responsibility at you if they see you are flexible and willing to try."
Nighttrain Schickele, Sept./Oct. 2013
"I signed up for the "Agriculture and Conservation Project" but my volunteering was not as straightforward as picking up a shovel and being shown what to do. I was given time with another volunteer to brainstorm on things we could improve at our designated school. We formed dozens of ideas for the farm, the soccer pitch, the kitchen, the garden, and the school. Then we just went for it. We dug out the foundation of an old building to plant grass, dispersed rubble to divert rainwater and to build a ramp for walking. We cleared out land for the garden, used broken bricks to improve a pathway and border the garden, planted seeds, and taught classes on environmental issues. Tasks changed day to day.
Uganda is your hometown, just without all the material. You've got your corner stores, neighbourhood faces, and usual routines, but it's all played on a different board. Stores look raggedy, roads are dusty, children sleep in dirt-floored rooms, and sickness is visible. But sunsets are explosions of orange and pink, dark green valleys are sprinkled with matooke trees, children want to meet you and play, and everyone greets you with warm cordiality.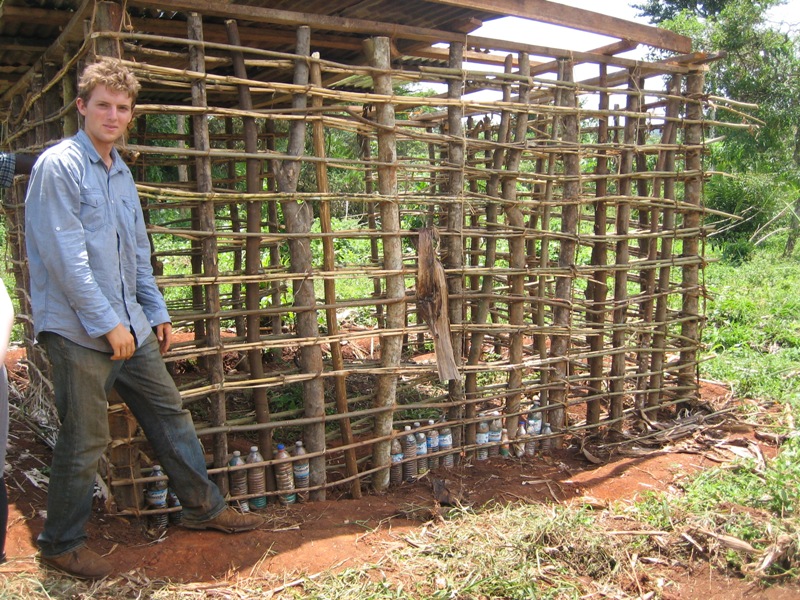 Melissa McKinnon, July/August 2012
"Volunteering for The Real Uganda was an amazing experience. I signed on to teach at a local school. Teaching in Uganda was challenging due to lack of supplies and resources. The language barrier is a shock, but you'll learn methods to make it work. If you have ideas of what you would like to do with your students, make sure you bring supplies.
Get comfortable quickly. Talk to locals, they want to teach you about Uganda and they want to learn about your country. EXPLORE and ENJOY. Try all the foods, even if you can't pronounce them. Get your toenails done. Embrace and the taxi and bodaboda rides. Head to Jinja or Kampala for the weekends. Have fun with the kids. Encourage them to be creative and to express their individuality."
Ashleigh Scopas, December 2011
"I spent two months in Najjembbe teaching at the Christian Heritage school. This was a primary school for the children in the village. For teaching I focused on reading and writing improvement. This involved daily reading activities and writing activities. I would usually involve this with a creative activity also, such as painting, drawing, using natural resources such as leaves etc.
Just go with it, Uganda isn't going to hurt you, give you aids or abduct you. Relax, the country is beautiful and if you come with an open mind you will sail through your time with no sweat."
"I worked in the agricultue program. We maintained demonstration gardens that were used to feed the children and staff (and us!) at the school. It was awesome to see how big the beans we planted in the first few days were by the time we left.. In addition to farming, we sanded and painted the walls of a future computer lab. It was really cool to see that we were making a sustainable impact within the community – the key thing that drew me to the project in the first place.
Have an open mind, and drop the whole 'save Africa' thing. If volunteers ride in on a high horse as if they are a knight in shining armour, they are not going to get the most out of their time in Uganda. Try not to spread yourself too thin – focus on one or a few aspects in your project. Quality over quantity or so they say."
Maggie Hodges, June/July 2011
"During my time with the Public Health Improvement program, I spent each week travelling to a different remote village and delivering educational talks on topics including sanitation and hygiene, HIV/AIDS, family planning, and economic empowerment.
We covered the basics of these issues, so while background research is recommended, you don't need to stress out if you're not an expert in any of these subjects. I had a translator during each session. Most people in the villages do not speak English.
Normally, we would be in the village Monday evening through Friday and have 2 educational sessions per day. I was responsible for coming up with the content I contributed to each discussion.
Come with an open mind, heart, and stomach! The meals you are served in the villages will be very big and it is culturally offensive to refuse food, so give it your all. Treat the people you meet in Uganda as family and they will do the same. It was one of the happiest times in my life and I feel as though I built meaningful relationships in a short period."
No time to volunteer? The Real Uganda leads 7 day Culture-Adventure Tours.