Hi!
I'm Leslie Weighill, founder of The Real Uganda. I'm originally from Canada, but I've been living in Uganda since 2004.
The Real Uganda exists to share the successes and challenges of life in Uganda with the world.
An email has been sent to your inbox containing the following information. Please check your promotions and spam folders if you don't see it.
It's wonderful you're interested in volunteering in Uganda, and are doing your research.
What makes us different from the myriad of volunteer organizations out there is our non-profit ethos.
The Real Uganda is not a media company. It is not a tour company. It is a non-governmental organization tasked with supporting local communities as they improve their lives. Here's a little more information about our philosophy.
We do this through the self-less work of international volunteers.
Are you looking to volunteer in a school, on a farm, in a public health environment, or with a women's empowerment group? The Real Uganda places international volunteers in exactly those settings.
In fact, since 2005, we've placed over 850 people from all over the world with Ugandan-led community based organizations.
Brix was here this past summer. Here's what she said about her experience:
"Volunteering through The Real Uganda, was one of the best decisions I ever made. If you want to make a real impact on true Ugandan communities, to work with inspiring, passionate and dedicated people, to do something you can't do anywhere else, then this is for you."
We're all about cultural exchange and building relationships. While your time and skills are needed, it is your individual personality, work ethic, and stories that Ugandans really want.
You will work alongside motivated Ugandans improving their lives, on their terms.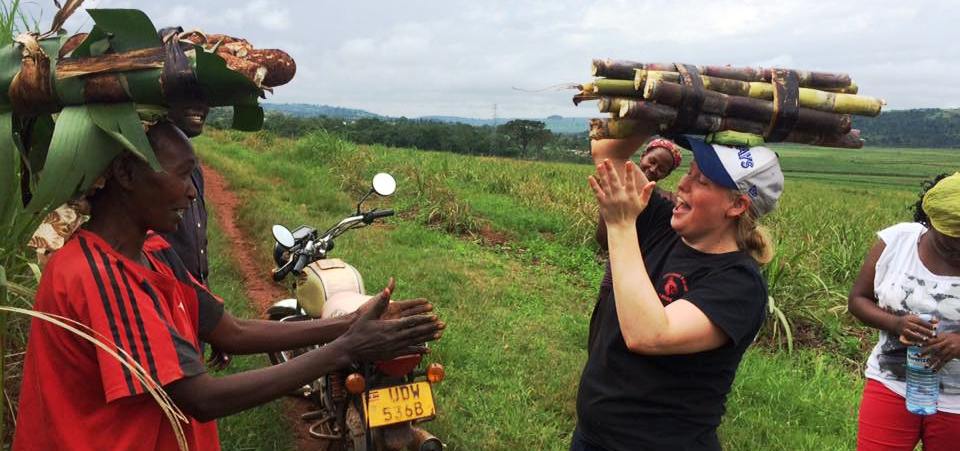 "It's been a dream to volunteer in Africa. The Real Uganda not only made it possible, but ensured I had the most amazing experience. Their support was invaluable, and provided the groundwork for my volunteering to have the greatest impact on both the people I worked with and myself." – Kristen, volunteer, 2015 and 2017.

The Real Uganda doesn't hope to save Uganda, we hope to share it with the world.

Once accepted into our program, you are given a multi-page orientation document and description of your host organization. Included are details of your work, responsibilities, security, location, food, accommodation, and vaccinations needed.
In the time leading up to your travels, your questions are answered by email and live chat. Upon arrival, you are collected from the airport, given a full orientation, and delivered to your new home. You are supported throughout your stay by phone and site visits.
How does that sound?
NOT ABLE TO COMMIT TO VOLUNTEERING?
The Real Uganda also leads periodic culture-adventure tours to raise funds for our partners. Joining a tour is a great way to dip your toes into our culture alongside a group of like-minded travelers. Participants work with 3 different communities and enjoy a wildlife safari – all in just 7 days.
Learn more about our culture-adventure tours
Okay, that's enough info for today! Over the next few days, I'll be sending valuable information to help you make decisions about choosing your volunteer abroad program.
Thanks so much for your interest in The Real Uganda. There are many organizations out there offering volunteer placements. It's great you're doing the research to ensure you choose the program that works best for you.
If you know anyone else who's thinking of volunteering abroad, please forward this to them.
Alright! That's all for now. Looking forward to receiving your application,

Want to know more about me? Check out my LinkedIn profile.
Have questions about our programs and procedures? Email me at [email protected]