Hi!
I'm Leslie Weighill, founder and managing director for The Real Uganda. I'm so happy you're interested in volunteering in Uganda. I'm originally from Canada, but have been living here since 2004. In fact, I created The Real Uganda so I could share it's successes and challenges with the world.
An email has been sent to your inbox containing the following information. Please check your promotions and spam folders if you don't see it.
Are you looking to volunteer in a school, on a farm, in a public health environment, or with a women or youth empowerment group? The Real Uganda recruits and places international volunteers in exactly those settings. In fact, since 2005, we've placed over 850 people from all over the world with Ugandan-led community based organizations.
Here's what former volunteer, Stormy Sagmoen, says of her experience:
"I spent my time playing games, doing arts and crafts, dancing, cooking, cleaning, and listening and talking to the children and teachers. I learned so much about life and culture in Uganda. The trip was extremely worthwhile and, from the volunteer perspective, the efforts that The Real Uganda put into their volunteers is incredible."
I'm personally in charge of all volunteer applications and in-country supervision. Through our online application process, I match your skill and interest with local programs seeking help.
What makes us different? Our focus is on cultural exchange and building relationships. While your time and skills are needed, it is your individual personality, work ethic, and stories that Ugandans really want.
Work alongside motivated Ugandans improving their lives, on their terms.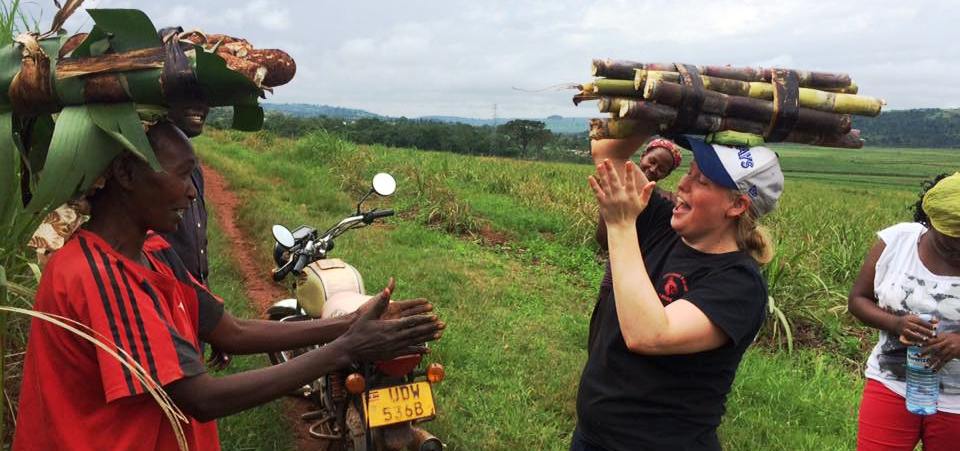 "It's been a dream to volunteer in Africa. The Real Uganda not only made it possible, but ensured I had the most amazing experience. Their support was invaluable, and provided the groundwork for my volunteering to have the greatest impact on both the people I worked with and myself." – Kristen McFadden, Social Worker, Canada, 2015 and 2017.

The Real Uganda doesn't hope to save Uganda, we hope to share it with the world.

Not ready to commit just yet? Here are a few posts from The Real Uganda's blog.
THIS is What Volunteering in Uganda Looks Like
10 Moments You'll Experience When Volunteering in Uganda
What You Need to Know About Voluntourism
What NOT to Bring When Volunteering Abroad
Once accepted into our program, you'll be given a multi-page orientation document and description of your host organization. Included are details of your work, responsibilities, security, location, food, accommodation, vaccinations needed, and just how your program fee is used.
In the time leading up to your arrival, I'll be personally available to answer questions and get you properly prepared for this experience. While you're in Uganda, I'll collect you from the airport, carry out your orientation, get you to your placement, and remain available by phone and site visits.
Thanks so much for your interest in The Real Uganda. I know there are many organizations out there offering volunteer placements. It's great you're doing the research to ensure you choose the program that works best for you. If you know anyone else who's thinking of volunteering abroad, please forward this to them.
Alright! That's all for now. Looking forward to receiving your application,

Want to know more about me? Check out my LinkedIn profile.
Have questions about our programs and procedures? Email me at [email protected]